The 2019 Report of the "Study and Reports on the VAT Gap in the EU-28 Member States" revealed that EU countries lost €137 billion in Value-Added Tax (VAT) revenues in 2017.
The VAT Gap decreased in comparison to previous years, however, it still remains very high. Based on the last VAT Report available, the VAT Gap is down by almost €10 billion on last year's reported loss of an estimated €147.1 billion.
Romania recorded the largest national VAT Gap with 36% of VAT revenues going missing in 2017. This was followed by Greece (34%) and Lithuania (25%). The smallest gaps were in Sweden, Luxembourg, and Cyprus where only 1% of VAT revenues on average fell by the wayside. In absolute terms, the highest VAT Gap of around €33.5 billion was in Italy.
Losses are mainly due to fraud or tax evasion, but also to bankruptcies, insolvency proceedings, or even tax optimization. The dimension of the fiscal hole is a way of measuring the effectiveness of the collection systems of the States, according to the European Commission.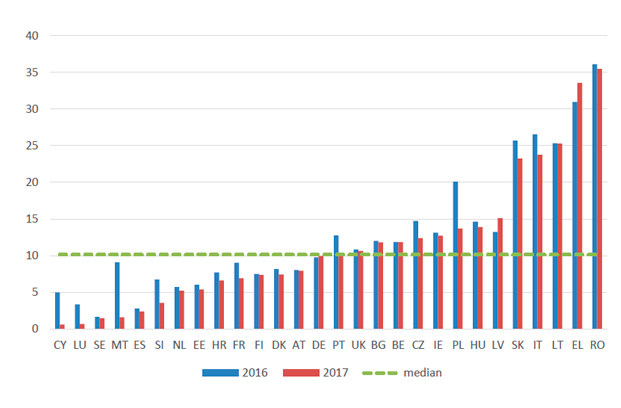 In nominal terms, the VAT Gap decreased by €8 billion to €137.5 billion in 2017, a similar amount as the 2016 decrease of €7.8 billion. The VAT Gap in 2017 represents 11.2% of total VAT revenues in the EU, compared to 12.2% the year before. This downward trend can now be observed for the fifth consecutive year.